Hi there,
first of all: i love the idea of Commerce! That'll be THE commerce solution for MODx, so keep it going!


I am migrating a Magento Shop to Commerce. That involves a lot of CSV exporting and importing (doing the resource-based solution, as we only have unique products and the import is quite a no-brainer). I have come to the point where I need to setup the shipping method.
We are selling music sheets. It's similar to selling books: each book (or music sheet magazine) has it's own weight. Based on the weight we do our pricing for the shipping - exactly like you can set it up in the Weight-Specific Shipment Method.
But we do ship in different countries - and the shipping costs vary from country to country and in addition to that there are different "gram-steps".
Example:
Shipping in Germany
0 - 350g : 1.50 €
351g - 500g : 3.20 €
Shipping to Belgium
0 - 300g : 1.80 €
301g - 480g : 3.60 €
and so on…
So what I would need is basically the best of both worlds: The Weight-Specific and Country-Specific Shipping Methods combined. There is no chance in setting up fixed prices for each country, as the shipping costs depend on how much books (music sheet magazines) you order - and on the countries, too.
To be honest I think that this is a quite common use case? Maybe I am wrong… but it was a no-brainer in Magento, maybe one of the few things worth copying from them?

In Magento this is called "Tablerates". This is what my tablerates.csv looks like (it goes on for quite a bit).
The columns are: Country / Region / Post Code / Grams (this number + everything above until the next step) / Price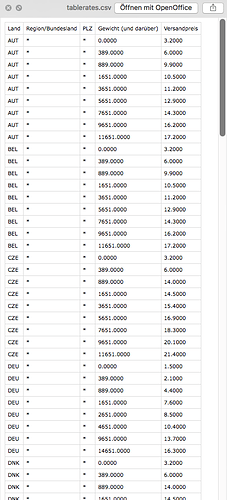 Cheers from Germany,
Andi